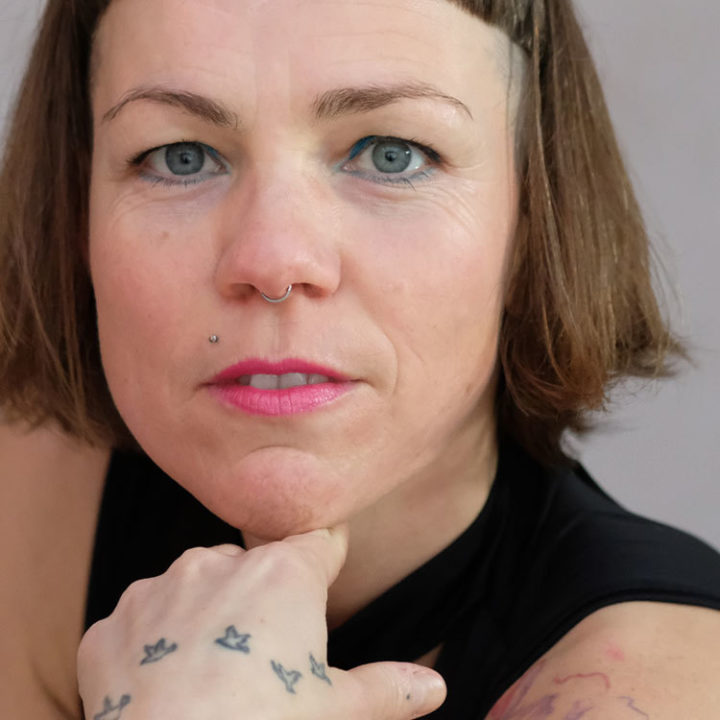 Una-Katja
Main Offers: Tantric massage, (tantric) BDSM sessions, sex coaching, workshop for couples
Rediscover yourself as new, unfamiliar and familiar at the same time. Experience yourself as relaxed, held, sensual and moved in every moment anew.


The body is fantastic, it is the biggest of all secrets, a holy temple, a holy place.

Osho
About Una
"Meditative elements like conscious breathing and body sense exercises make you discover your inner and outer sense space. Deep stretches and positions from Yoga, Thai massage and Bonding help your body to relax in depth and ease tensions in your tissue and muscles in a natural way. Dynamic waves and strokes make your cells dance, invite new energy to your system and revive you holistically.
Are you ready to expand your body awareness and erotic potential, to discover, explore, revive your very own sexuality? To become a lover of your own or to be a good lover to others? Or is there a topic that has been on your mind for a long time or that interests you?"

Unas own research spirit accompanies you with great attentiveness. She is experienced in individual sessions and gives tantrically inspired workshops and touch coaching for couples with special enthusiasm.
Mehr Informationen über Unas Angebot
Unas Sexualcoaching
Unas Sexualberatung per Skype oder Telefon
Die Sexualberatung per Skype kann eine hilfreiche Ergänzung zu einem bereits bestehenden Coaching-Setting sein. Manchmal ist aber auch der Weg zu weit oder ein persönlicher Kontakt noch zu nah. Die Sexualberatung per Skype ist eine gute Möglichkeit über aktuelle Themen zu sprechen. Bitte nehme direkt Kontakt mit mir auf unter : k.vonderforst@hotmail.de.
Grenzerfahrung Liberty
Data & Facts
Experience

Tantramasseuse since 2014

Dance and Movement Therapist

Languages

Qualification

Certified Sexological Bodyworker (CSB)
Background & Training
Yoga Lehrerin für Tantra Kaula Yoga
Certified Sexological Bodyworker (CSB)
Temple Whore - Sacred Sexuality Practicioner Training
Wheel of Consent Practitioner Training - Betty Martin
4 Tage Intensiv-Seminar in Köln. Exklusiv für Ananda organisiertes Training mit Betty Martin, der Erfinderin der Methode aus Seattle.
Inhalt: Erlernen von klarer Wahrnehmung, Definition und Kommunikation zum Thema Grenzen. Wie schaffen wir einen 100% einvernehmlichen Raum für unsere Körperarbeit? Wie vermeiden wir z. B. eine Über- oder gar Unterforderung der empfangenden Person?
Workshop Tantra & BDSM: Erotic Deep Mystery Dive
mit Seani Love,
bekannt aus dem preisgekrönten Film "Touch me not"
Tantra & BDSM bei TantraArt
Mit Julia Dietz und Kaya Könn
Tantra Kaula Yoga & Schamanismus
Tantramasseurin bei MyTemple
Tantramasseurin im ANANDA
Assistant Primary Therapie/ Reichian Body Therapy and Meditation at Osho Uta Institut Köln
Quodoushka - indianisch-schamanischer Zugang zu Sexualität
Ein schamanischer Zugang zu spiritueller Sexualität, mit Batty Gold und Rose Fink, ZEGG Bad Belzig (2017)
Meditation Teacher für Osho Meditationen
Training with Meditation am Uferzentrum / MAUZ Berlin
Training holistic intuitive Massage, Deep Tissue Massage, Hawaian Massage at Osho Uta Institut
Training Dance- and Movement Therapist at IEK Berlin
Discipline of Authentic Movement atAnke Teigeler
Training in Tantra Massage "The sensual Journey" with Nhanga Ch. Grunow
Tantra Massage with Michaela Riedl
Körpertherapie und Bioenergetik - Sexuelle Befreiung
Mit Ilka Stoedtner, ZEGG Bad Belzig (2013)
Diplom Social Paedagogics
Work experience in Social Work, Coaching, Theater Paedagogics and Prevention of Violence
Primärtherapie im Osho Uta Institut Köln
Primärtherapie: "Stream" - Gruppen- und körpertherapeutisches Verfahren zur Bewusstwerdung und Auflösung von Traumata, Prägungen und Konditionierungen aus der frühen Kindheit bis ins Jugendalter, mit Anando Würzburger und Samarona Buunk, Osho Uta Institut Köln
Abgeschlossenes Studium Diplom-Sozialpädagogik (Abschluss 2003),
Hochschule Niederrhein Mönchengladbach
Aufbaustudium Organisationspsychologie
(Abschluss 2010), Institut für Psychologie / TU Dortmund
Feedbacks
Beste Entscheidung ever. Komme wieder, weil ich mich liebe. @Una Katja. DANKE!
Liebe Una-Katja, es sind schon einige Tage vergangen, seitdem ich eine außergewöhnlich anregende und nachhaltige Massage von Dir erleben durfte.
Deine Ausstrahlung, deine variantenreiche Art der Massage ,deine Empathie und auch Dein Humor und Deinete Laune lassen die Zeit mit Dir zu etwas Besonderem werden. Du bist eine Persönlichkeit , Powerfrau und einzigartig (Una).
Liebes Anandateam, die zahlreichen Besuche bei Euch haben in den letzten acht Jahren meine Lebensqualität erheblich erhöht. Danke!
Bis schon bald
Stephan W.